One of the main problems when starting game development is the learning curve that the overall takes. Not only from a point of view of the technology but the view of the experience/feeling/sensibility required to make a game that is fun to play. In this article, we will be looking at 13 reasons to use DEVELOP in your game ( First or Next).
Although both points seem unrelated, the truth is that they are, and you cannot gain experience in making fun and pleasant games, without having the ability to master a tool that allows you to make quickly games without compromising on the quality and the features of the game.
When you think about beginner game engines, you usually think about tools like scratch, which are very easy to take on, but that limits you in the complexity and quality of the games that you can develop.
Develop is a solution that allows you to start quickly developing your games, but that won´t limit your capacity to make great games and will enable knowledge and complexity of the game to go hand in hand, to a point where professional games could be done.
So, here are 13 reasons why you should use GDevelop for your next game, or to make your first game in case you are beginning.
1.  Gdevelop is open source
GDevelop is a free and open-source, cross-platform 2D game development tool designed to be used by anyone, GDevelop is a general-purpose, and the game engine is powerful enough for any 2D game.
The bases of the project are one of the first versions of the Construct 2 source code which was released at the beginning of the game engine life cycle, and from then has grown into a full-blown game engine that shares some similarities with its parent, but that has also major differences.
2. Gdevelop is easy to learn.
Gdevelop is very easy to learn and doesn't require any programming knowledge. The paradigm that lies behind the pair condition-action is very easy to understand and to start applying to making the games, but, at the same time is powerful and won´t limit the capacity and creativity of the development team.
You can create any kind of game: platformers, puzzles, shoot 'em up, strategy, 8-bit games, or just about any type genre of game that you want.
3. Visual programming as its best
The Events system is a powerful way to express the logic of your game, without having to learn a programming language. Events are super easy to learn and are designed to be just as powerful and flexible as any programming or scripting language.
Events support statements, conditional and logical operators, groups, links, and loops such as For Each and Repeat… You can even create functions, to reuse and share your events across projects.
If you feel like you do need to use a more traditional scripting language, you can use a JavaScript block inside an event. It's perfect for reusing a complex algorithm or 3rd-party library.
4. Built-in editors for quick prototyping and creation
GDevelop is embedding third-party editors like Piskel ( Must be installed on the system) for creating sprite and pixel-art assets, as well as a sound effect generator. It's ideal for fast prototyping in game jams or making 8bit games!
The editor comes up with an integrated Debugger to inspect your game while previewing it, a Profiler to measure performance, and a Preview over wifi to quickly test on mobile devices.
5. Gdevelop is extensible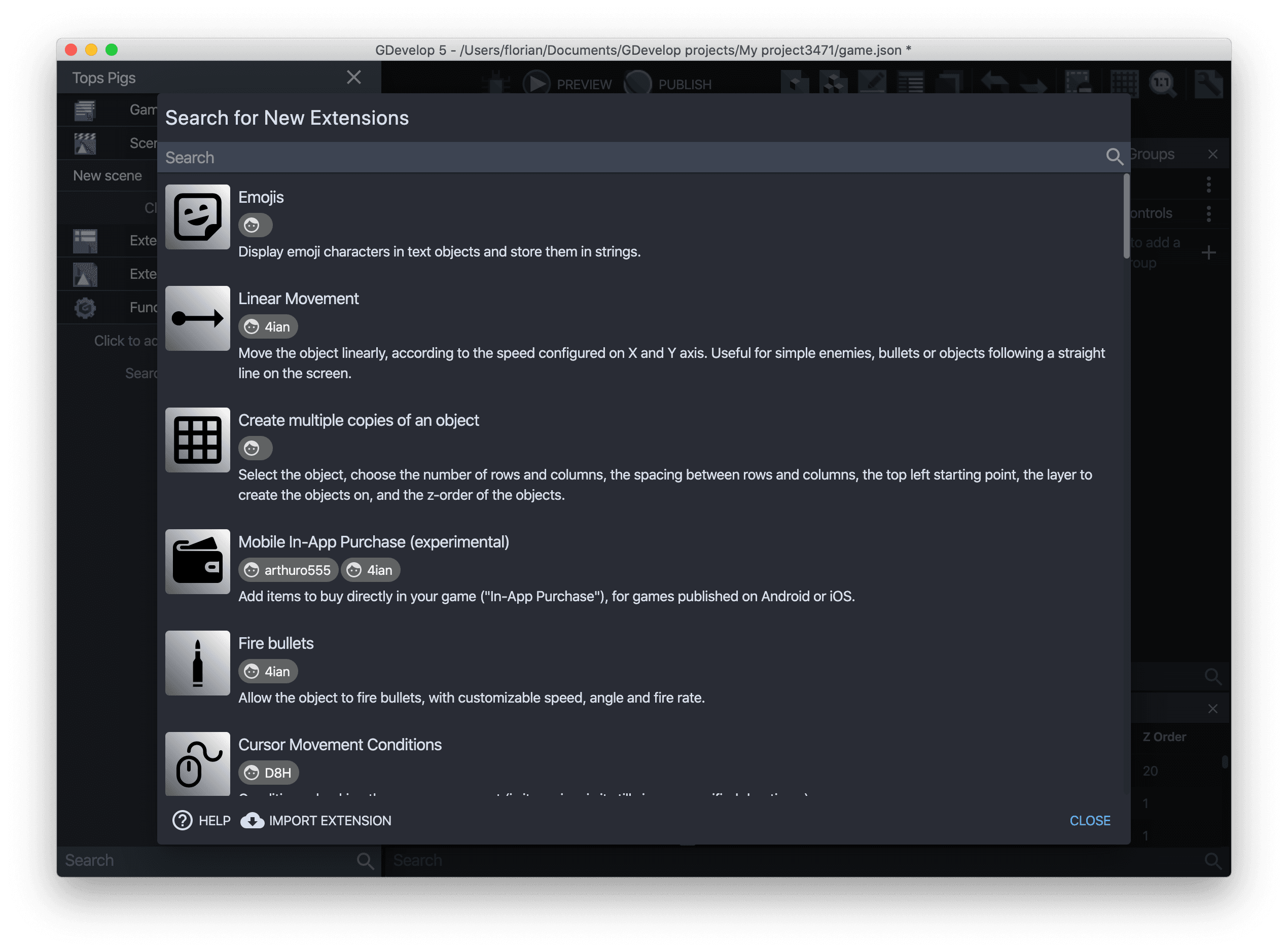 Reasons to use GDEVELOP in your game – Gdevelop Extensions System
Apart from being open-source, MIT licensed. The game engine supports the concept of. Extensions that can be developed and shared/distributed to enhance the game engine – all built-in features are provided as extensions from the extension system.
6. GDevelop is bundled with tons of features, out of the box
Reasons to use GDEVELOP in your game – Hyperspace Dogfight, a game on Steam made with GDevelop
Objects define what is displayed on the screen:
Sprites with multiple animations – supporting rescaling and tinting,
Texts,
Tiled sprites and 9-patch objects (useful for background, platforms, etc),
Particles emitters,
Shape painters to draw arbitrary shapes on screen,
…
The game engine supports multiple layers, time slowdown/speed up, custom hitboxes, and is including a collision engine. You can also enhance your objects with pre-defined behaviors:
platformer engine,
physics engine,
pathfinding,
automatic clean up of objects outside the screen,
and more!
7. Gdevelop supports only 2D.
2D is still easier and faster to develop than 3D. This could be seen as a problem, but if you think about the problems generated by game engines that support both 2D and 3D, due to its availability, you will that just having one option will make the development more straightforward and more performant as everything is optimized for 2D.
8. Gdevelop have multiplayer and network features
Through the extension systems, Gdevelop enables multiplayer, network, and server features that you can use for your next game. It is simple with plenty of features to enable a multiplayer version of your games.
You can use Google Firebase to create and manage all the virtual elements that you want on your game or to save and load information from your users to improve the analytics capacity of your game.
9. Gdevelop is multilanguage

We are certain that you wouldn't be expecting this one in a visual tool, but, Gdevelop allows you to inject Javascript code into your game to have some of the functions to be coded in a regular coding language.
10. Gdevelop is multi-platform for mobile, desktop and Messenger
With Gdevelop you can Publish your games to the web (HTML5), iOS, Android, Windows, macOS, Linux, and even Facebook Messenger. Games created with GDevelop run anywhere and you can do a one-click export to Android, Windows, macOS, and Linux from the app.
11. Gdevelop has an active support team
Sometimes the fact of being open source could be more of a problem than a benefit if the number of developers is insufficient to keep the project moving forward. Gdevelop has a large and active community of developers that are constantly fixing bugs and pushing new features that make the engine grow in quality and ability to support more demanding developers.
12. GDevelop is well documented and plenty of tutorials
Learn step-by-step how to use GDevelop or get help with a specific feature: the wiki has tutorials and complete documentation for the software. Tons of examples are also available and ready to be tried in one click.
GDevelop has a community forum and a Discord to get help.
13. Gdevelop has a large community of developers and users.
Gdevelop as a large community very active, that will allow to get answers and help for some of the problems that you could find while developing your games. This will make your progress easier and more stable as you will not spend large periods of time blocked due to the lack of knowledge on solving some problem with the engine or with a particular aspect of your game.
Who is GDevelop not suitable for?
So far we've seen a lot of good reasons to use Gdevelop, but who is GDevelop not suitable for? Well, Gdevelop isn't what will make the next big AAA game, or the next 3D best mobile game ranking on the top lists.
Just like the case of Godot, GDevelop will not "officially" generate games for the consoles ( although some workarounds exist) because the tools required to export the game to the consoles will not integrate with Gdevelop.
Gdevelop although being fun to develop due to the event systems and the visual scripting has some limitations associated with it, and visual scripting can have its bottlenecks when trying to make large changes at once.
What are your thoughts on Gdevelop Engine? Share it in the comments, we would like to listen to your opinion. For more interesting articles on the game development industry check our blog.